After Care to add longevity to your sleepwear
Posted by Annie Mackenzie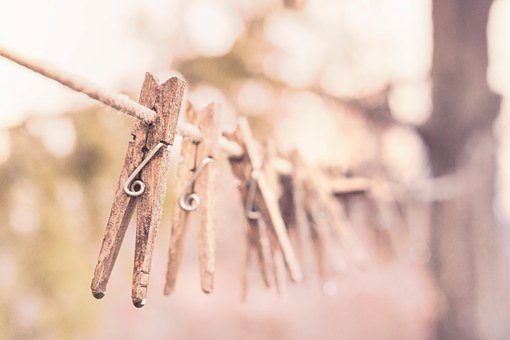 After Care to add longevity to your sleepwear
 As we move into an age where global warming and other environmental issues impact our everyday decisions on what we buy, we thought we would put out a few tips on how to keep your pyjamas for longer, and how to care for them. We have listed a number of fabrics below and each of our pyjamas comes with a washing instruction in the side seam. Please always read the washing instructions as this helps you to wash it correctly.
When hanging any pajama's on the clothes line, like with any other clothing item, always hang upside down and put your pegs on the side seams. This will help any garment to last longer and retain its shape for years to come.
 Modal Spandex - is one of our favourite pyjama fabrics as it is super soft and feels like you are wearing your oldest t-shirt to bed. Modal is made from the wood pulp of trees so it is essentially a man-made natural fibre. It breathes beautifully, just like cotton but it is 50% more absorbent. The spandex is used in small amounts in the knitting process which help the modal to retain its shape and not grow. Typically, as modal is a man-made natural fibre, it can go out of shape and therefore we recommend that you do not wash it on a normal cycle or in hot water. Always use the gentle cycle on the washing machine. Also, modal should not be "hung" out to dry, but rather lie it flat over a clothes rack like you would a special woollen sweater. If you hang it on the line, it may grow longer and skinnier over time. Do not put it in the clothes dryer as it will shrink despite the spandex.
 Cotton – at Pyjama Shop we use a lot of cotton and some of it has spandex and some of it is 100% cotton. Cotton should NEVER be put in the clothes dryer as it is a natural fibre and all natural fibres will shrink in the clothes dryer. However, it will soften each time you wash it, especially if you add a softener to the wash, and it is a comfortable and durable fabric that breathes beautifully and is great for those hot summer nights. Interestingly, like most natural fibres, it is warm in winter and cool in summer. There is also a super soft brushed cotton which we use in winter. This simply means that a slightly heavier weight cotton has been used and then brushed after being manufactured, to fluff up the yarn.
 Viscose Spandex Knit – we are using this fabric more and more as it lends itself to flowing casual pyjamas and is also great for maternity wear as it stretched beautifully and is extremely comfortable to wear. Viscose, like modal, is also made from trees but the yarn is slightly coarser giving it a cooler effect. The spandex helps it retain its shape but once again, garments made out of this fibre should be laid flat to dry and not hung in order to retain their shape. And no putting them into the clothes dryer.
 Brushed Spun Polyester – this newest knitted fabric is the softest fabric we have found in the market today and is durable, warm and easy wash and wear. These items need no ironing and can be put in the clothes dryer if you are in a rush to wear them, or line dry to retain the life of the pyjama's. Nothing beats fresh air.
Microfibre Satin – this new microfibre satin is the silkiest fabric and mimics the qualities of silk without the hassle of caring for silk. It is easy wash and wear – you can literally throw it in the washing machine and then use a cool iron. These items can be put in the clothes dryer though some static can be found if you are living in a city like Johannesburg where the winters are very dry.
Kikoi – this is a hand loomed fabric and therefore it has little imperfections that add to the character of the cloth. Do not wear this fabric in a fitted form as it will split at the seams or wherever there is stress, simply because it is not made by a machine where the tension can be adjusted. We recommend the casual loose fit especially around the bum to prevent it from coming apart. As it is 100% cotton, it needs to be washed as you would with any cotton garment. The pockets in the side seam can mean it takes a longer time to dry, so simply turn it inside out and have the pockets facing the sun. This will also help the fabric retain its colour as the sun will fade the inside and not the outside. Do not put this fabric in the clothes dryer as it will shrink.
Feel free to contact us at info@pyjamashoponline.com for any other fabrics you would like information on, we are here to help.
Thanks for reading! 
Annie - owner The Pyjama Shop